hi! to everyone
this post is a simple ENG porting of :
viewtopic.php?f=15&t=6355
I'm going to explain how to build your own ReactOS application using ROSBE
the examples works without changes, if source code was located in c:\ReactOS-SRC and ROSBE is installed correctly.
all the examples are named :
firstapp.exe
, and can builded by a simple:
MAKE FIRSTAPP
from ROSBE CONSOLE
i edit the c-code using the standard NOTEPAD... and it can be compiled using only ReactOS ( however, I used xp. )
first, create a
directory
called
FIRSTAPP
located in
C:\ReactOS-src\base\setup
i used Setup-directory because it contains WELCOME application.. that can be a good source of example code...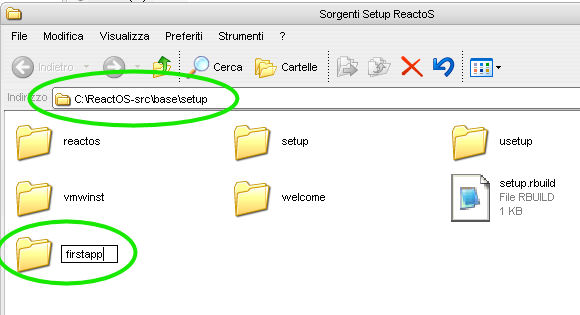 now.. edit the
setup.rbuild
located in
SETUP directory
and ADD then new FIRSTAPP entry.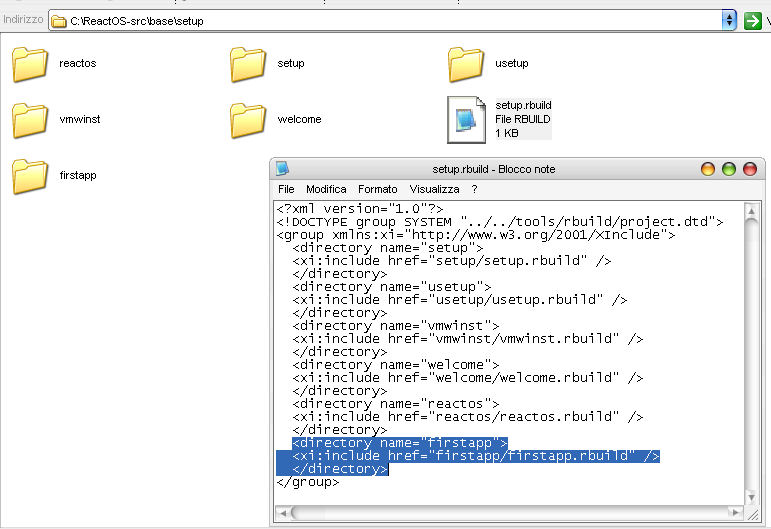 open FIRSTAPP directory and create a new rbuild file named: firstapp.rbuild
copy this code on it: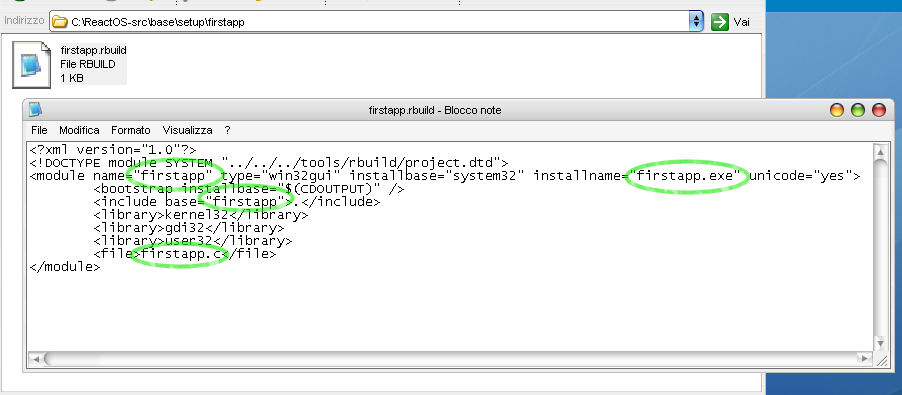 now.. is time to write the c-code... is a good idea to write some REM, something like that:
( GNU licence infos.. date... developer... )
next... write this code: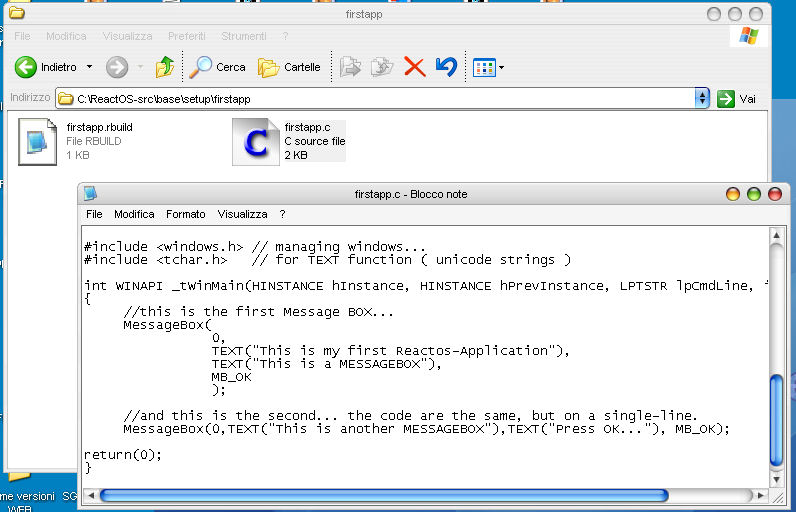 the full code was:
now... JUST go on ROSBE shell... and type:
MAKE FIRSTAPP
the compiled program are created on directory:
C:\ReactOS-src\output-i386\base\setup\firstapp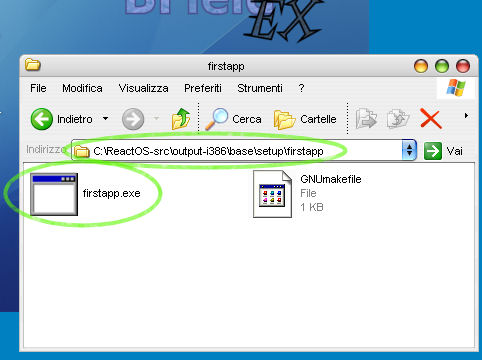 now, copy FIRSTAPP.EXE on ReactOS desktop.. and double-click it!
( in Q-EMU just MOUNT the c-drive image using ROSTE, and copy firstapp.exe on
UNIT:\Documents and Settings\Administrator\Desktop
)
( in win.. just doubleclick the program )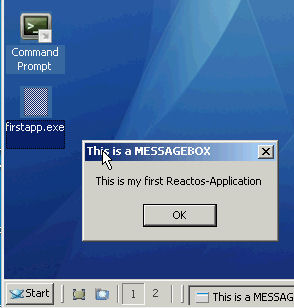 now, we can introduce a simple DEBUG output...
this is the code:
place it before the first MessageBox
now.. start ROS (debug version) in QEMU and the debug-output will appear in the debug window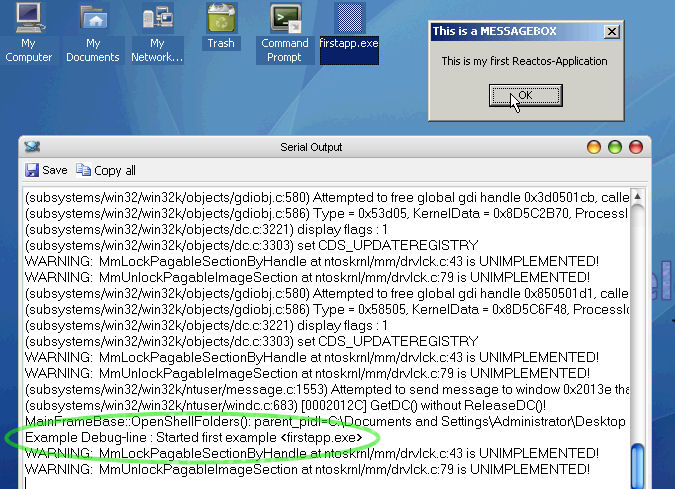 NOW, THE SECOND EXAMPLE.. a simple WINDOW
edit the firstapp.c.. and put in it this code:
now.. building it with the usual
MAKE FIRSTAPP
.. the result is: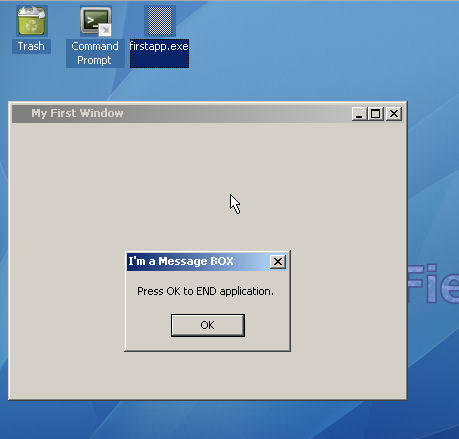 example number 3... ACTIVE WINDOW WITH SOME TEXTS
this is the code...
and the compiled example...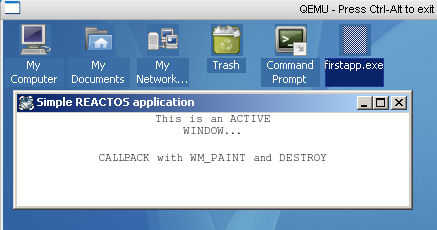 now... the first graphical app...
create the
RES
folder on :
C:\ReactOS-src\base\setup\firstapp

create
firstapp.rc
on
C:\ReactOS-src\base\setup\firstapp
and put this code in it...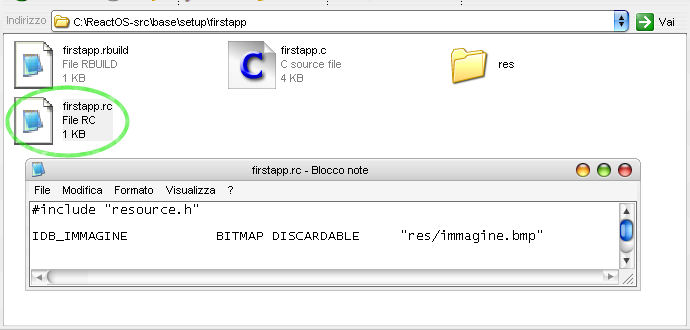 edit
firstapp.rbuild
and add this entry: firstapp.rc
like this: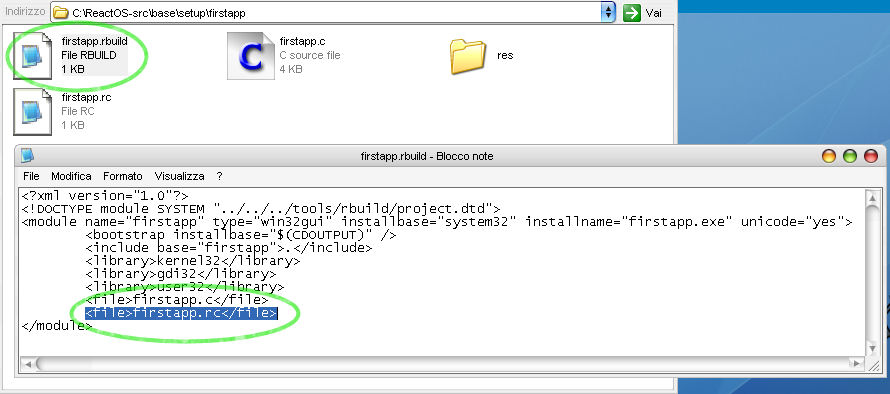 now.. create
resource.h
on
C:\ReactOS-src\base\setup\firstapp
and write this line in it...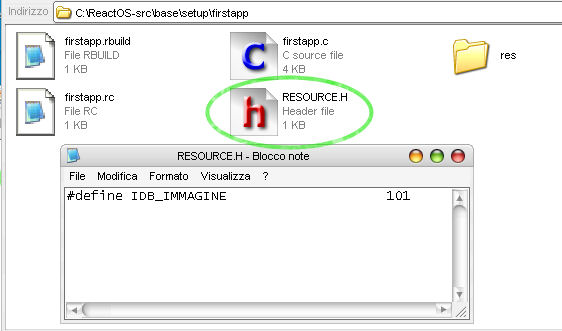 ok... now download this image:
http://www.wcn.it/immagine.bmp
and put the bitmap on
C:\ReactOS-src\base\setup\firstapp\res
(full image created by Rendergraf , THX! )
now... is the c-code time...
edit firstapp.c ...
Compile it.. and...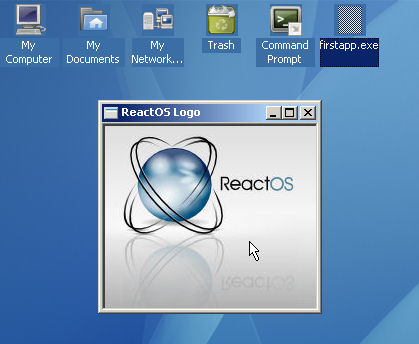 Some other examples.. on italian forum...
Thanks for your patience.. and sorry for my poor english
Davy